Features & Specs
10 ft. standard model – AG1027
3 bars with 27 Standard "S-tines" with reversible & replaceable std. chisel points
Tractor Requirements:
40-60 Horsepower (HP)
Tire width no greater than 114″
$4,300.00
** Shipping costs not included. All items FOB Parma, Idaho. Price subject to change without notification **
Overview
The Parma® Arena Groomer® is the best tool your arena will ever need. With one pass of the Parma® Arena Groomer®, your arena will be conditioned to your liking.
See the individual sizes and pages of the Arena Groomer® models for more general information regarding the specifics of each size and model of the Arena Groomer®.
The Parma® Arena Groomer® has 3 simple steps to preparing your arena for excellent use.
The s-tines unearth and plow the soil or arena material. The curvature of the s-tine allows for minimal top pressure as the     s-tine works the arena –  breaking or ripping up the arena material.

The adjustable smoothing bar levels all valleys or mounds created by the s-tines ripping through the material. It simply knocks down the high spots and fills in the low ones.

Last is the roller. Its function is to give the arena a smooth finish. It breaks apart clods and other large material while leaving a semi-compacted and "fluffed" surface. It is also adjustable for preferences in compaction in the arena.
With over 20 years of history, the Parma® Arena Groomer® is the most affordable tool for your arena without compromising a poor surface.
Options
Roller Options
Replaces typical pipe roller with Solid or Expanded Metal Roller
10″ Solid Pipe Roller
Increases Compaction
Leaves smooth arena surface
Ability to fill with water to increase weight
Solid Roller – AG1027
Solid Roller Option (5530282) – (replaces pipe roller)
         ADD  $390.00
Swivel Hitch Option    **NEW**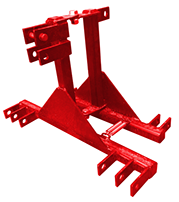 Attaches to Front Bar of

Arena Groomer® and tractor 3-point

Gain Articulating Action

Designed for tractor 3-point use only

Retrofits any existing unit

Less material build up in corners
3-Point Swivel Hitch Option (530555):
          ADD  $350.00
Specifications
Model Type: 10 ft. – STANDARD
Overall W x L x H (in.): 120 x 85.5 x 40
Weight (lbs.): 1,020
Shipping Weight (lbs.): 1,080
Max Wheel Width (in.): 114
Suggested Horsepower (HP): 40-60
Rows of S-tines: 3 (standard)
Warranty: Yes (Limited 1-Year)
Support
Call (208) 722-5116, Email, or Leave a short message on our Contact us page and we will answer any questions you might have
OPERATORS MANUALS
View a list of all our manuals for every model you might have
Find and order Coil tines, Points, S-Tines, Bearings, and other common parts. We will ship it the same day of order if in stock. For other parts and more info please call.
See pictures and video of the coil tine conversion in action.
Need instructions? Find all the instructional manuals and videos you need.