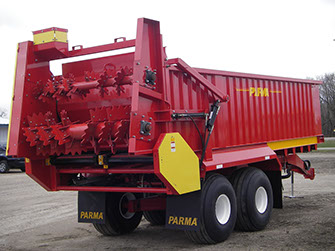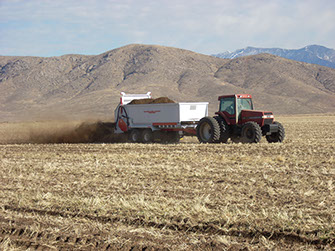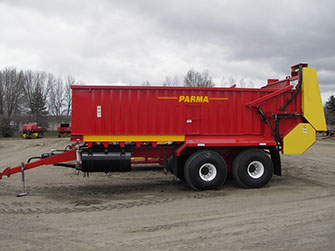 The Parma Compost and Manure Spreader
Since 2000 Parma Company has been building one of the toughest forage and commodity hauling units available. These are available with a Beater or Spinner attachment.
Parma Spreader boxes and trailers are designed with all welded, heavy-duty construction using 14ga and 12ga corrugated walls and solid welded 10ga floor plate. The flat bottom floors eliminate bridging of the material no matter the consistency. The  floor chain is made with heavy-duty WR-78.
Some of the standard features of the Parma Spreaders are an industry-largest 2 3/8" drive shafts, with split poly bearings for economical and durable life. A simple front idler shaft mechanism uses durable poly sprockets on 1 15/16" shafts. Steel sprockets are available upon request. High torque hydraulic motors power the floor for fast and easy unloading. A wide 90 inch box body provides for a high capacity trailer made to last.
Most of these boxes and trailers can be equipped with a silage kit.  These kits vary in length and side height depending on the customer choices.  Each of these  silage kits are available with a simple top hinged swing gate or convenient double "barn style" doors that latch securely in the floor chain.