Features & Specs
Sizes range from 30 to 40 feet in length
Quick Unloading – 20-30 ft per minute depending on hydraulic oil availability
14 & 12 Gauge Corrugated Walls

34ft x 6ft wall Forage Trailer:




Weight = 15,800 lbs

56.6 cu. yards struck(top rail)

1,233 Bushels struck(top rail)
Available with New Axles, Wheels and Tires, Landing Gear, Tarp Kits, Blow-Over Panels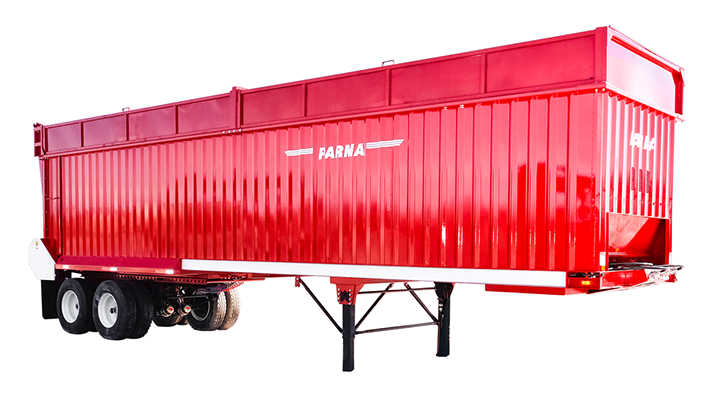 Overview
The Parma Forage Trailer
The reintroduction of a manure spreader box to the Parma line of equipment in 1999, propelled Parma Company to expand into the forage truck mounted box and the semi-tractor pulled trailer. Since 2000 Parma Company has been building one of the toughest forage and commodity hauling units available. Truck mounted boxes range from 16 to 24 feet and trailer sizes are 30 to 40 foot.
Parma Forage boxes and trailers are designed with all welded, heavy-duty construction using 14ga and 12ga corrugated walls and solid welded 10ga floor plate. The flat bottom floors eliminate bridging of the material no matter the consistency. The double apron floor chain is made with heavy-duty TY78 "big barrel" riveted chain and welded 2 inch channel slats for years of worry free unloading.
Some of the standard features of the Parma Forage boxes and trailers are an industry-largest 2 3/8" drive shafts, with split poly bearings for economical and durable life. A simple front idler shaft mechanism uses durable poly sprockets on 1 15/16" shafts. Steel sprockets are available upon request. High torque hydraulic motors power the floor for fast and easy unloading. A wide 90 inch box body provides for a high capacity trailer made to last.
Each of these forage boxes and trailers are available with a simple top hinged swing gate or convenient double "barn style" doors that latch securely in the floor chain. Five or six foot wall heights, with optional extension panels, may be ordered to assist in over-the-side loading of manure, grain, sugar beets, or the many other commodities. Semi trailers are available with new axle undercarriages to maximize your hard earned dollar.
Features
Construction
Semi-Pulled Trailers Sizes rage from 30 ft to 40ft in length
Truck Mounted Boxes Sizes range from 16 ft to 24ft
---
Heavy Duty Box Construction with all welded side panels and floor
5ft or 6ft Corrugated Walls with 14 gauge (30ft to 34ft Trailers), 12 Gauge (36ft to 40ft)
Steel Lined Walls Available
10 Gauge Thick floor plate
90″ Inside Dimension
Mud Flaps for Truck
Tail Lights
Flat bottom live Floor eliminates bridging
Floor Chains & Drive Shafts
Floor Chain


Double Apron H78 Ty Chain
1/4 x 1 1/4 Side rail with 1 inch OD barrel x 9/16 ID – 1/2 pin
3/16 inch Channel Floor chain slats
Heavy Duty RC 80 Chain Drives

Drive Shafts


2 -3/8″ Apron Drive shaft with heavy duty Polyurethane split bearings
1 -15/16″ Front idler shafts with Poly Sprockets (Steel Sprockets Available)
Hydraulics
Recommended Truck Hydraulic System – 30 to 40 GPM @ 3,000 PSI capability
Steel Hydraulic lines with tractor Quick Disconnect couplers
Heavy Duty Hydraulic apron drives (Dual Motors on common shaft)
Add Ons & Options
New or Recap Tires
Available with new Slider Axles for durability and adjust-ability
Barn Style rear doors with closures
Simple Top hinged Swing out Gates that latch in floor chain for secure yet simple operation
Mounting Components (Truck Mounted Boxes)
2/3 Fixed top or Tarp Covers available
Landing Legs with Dual shift Gearbox (Semi Trailers)
3/8 Poly Floor Liner
Support
CONTACT US FOR SUPPORT
Call, Email, or Leave a short message on our Contact us page and we will answer any questions you might have.
OPERATORS MANUALS
View a list of all our manuals for every year model you might have
PARTS
Find and order Sprockets, Chain, Poly Sprockets, and other common parts. We will ship it the same day of order if in stock. For other parts and more info please call.
PICTURES & VIDEOS
Look through pictures of the Forage Trailers.