New Coil Tine Conversion Kits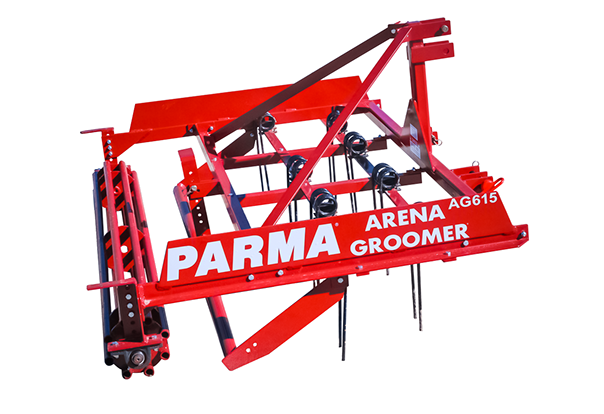 Features & Specs
Converts any mini model size
(AG513, AG615, AG719, & AG821M)
Buy with Arena Groomer unit OR
Buy the kit to convert existing unit
Tractor Requirements:
See Recommendations for similar Model Sizes
See options below for price
A single 3/8 Diameter Size Coil Tine is best for Synthetic Arena Footings
Overview
Options
Specifications
Support
Slide Show
Overview
The Parma® Arena Groomer® is the best tool your arena will ever need. With one pass of the Parma® Arena Groomer®, your arena will be conditioned to your liking.
Now introducing the coil tine conversion kit specifically designed for the synthetic and fiber footings and equestrian arenas. The coil tine conversion kit converts any existing mini model.
We use a 3/8″ diameter tine for synthetic or fiber footings, the 3/8″ Coil tine will leave a smooth finish yet can still be aggressive when needed for packed areas of your arena.
Arena Groomer® units. The "S-tines" seen on the normal units are meant for arenas and footings containing dirt, sand, stone dust, etc, which are meant for deeper footings and bases. The coil tines are designed for less aggressive digging and shallow footings. Typically, synthetic and fiber footings have shallow bases, thus the coil tines are perfect for arenas where minimal depth is required. The coil tines simply rake the surface with minimal surface area as to limit pulling or dragging the synthetic or fiber footing off the base like a carpet. However, the coil tines are still aggressive enough to help alleviate compaction and hardened areas in your arena.
See the individual sizes and pages of the Arena Groomer® models for more general information regarding the specifics of each size and model of the Arena Groomer®.
Options
Specifications
Support
Slide Show