New Coil Tine Conversion Kits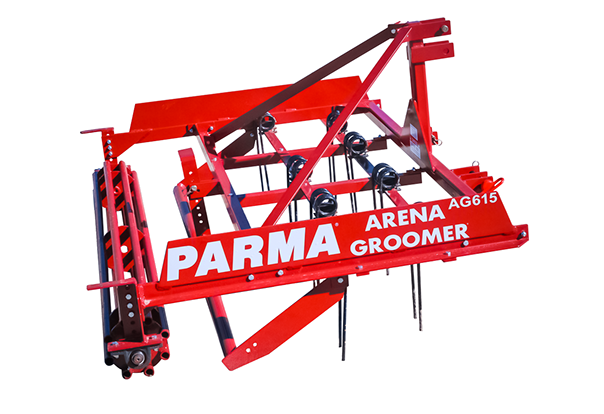 Features & Specs
Converts any mini model size
(AG513, AG615, AG719, & AG821M)
Buy with Arena Groomer unit OR
Buy the kit to convert existing unit
Tractor Requirements:
See Recommendations for similar Model Sizes
See options below for price
A single 3/8 Diameter Size Coil Tine is best for Synthetic Arena Footings
Overview
The Parma® Arena Groomer® is the best tool your arena will ever need. With one pass of the Parma® Arena Groomer®, your arena will be conditioned to your liking.
Now introducing the coil tine conversion kit specifically designed for the synthetic and fiber footings and equestrian arenas. The coil tine conversion kit converts any existing mini model.
We are introducing 2 new coil tines, 1/4″ diameter and 3/8″ diameter.  For synthetic or fiber footings, the 1/4″ Coil tine will leave a better finish on your arena, while the 3/8″ coil tine is for more aggressive poly-sands footings and arenas.
Arena Groomer® units. The "S-tines" seen on the normal units are meant for arenas and footings containing dirt, sand, stone dust, etc, which are meant for deeper footings and bases. The coil tines are designed for less aggressive digging and shallow footings. Typically, synthetic and fiber footings have shallow bases, thus the coil tines are perfect for arenas where minimal depth is required. The coil tines simply rake the surface with minimal surface area as to limit pulling or dragging the synthetic or fiber footing off the base like a carpet. However, the coil tines are still aggressive enough to help alleviate compaction and hardened areas in your arena.
See the individual sizes and pages of the Arena Groomer® models for more general information regarding the specifics of each size and model of the Arena Groomer®.
Options
Conversion Kits for existing models (convert S-tines to Coil Tines)
1/4″ dia. Coil Tines

3/8″ dia. Coil Tines


Conversion Kits WITH TINE BARS for existing models
1/4″ dia. Coil Tines

3/8″ dia. Coil Tines



Coil Tines for New Units (replace S-tines with Coil Tines)
1/4″ dia. Coil Tines

3/8″ dia. Coil Tines

Specifications
Overall Length (approx.):     See Specific Model Size
Compatible Models: AG513, AG615, AG719, & AG821M
Ships unassembled; Assembly Required
Coil Tines: 1/4″ Coil Tine – Part No. 530560
Length (approx.):       9 in.
Width (approx.):        3 in.
Coil Dia (approx.):     1/4 in.
3/8″ Coil Tine – Part no. 530561
Length (approx.):       9 in.
Width (approx.):        4 in.
Coil Dia (approx.):     3/8 in.
Support
CONTACT US FOR SUPPORT
Call, Email, or Leave a short message on our Contact us page and we will answer any questions you might have.
Call (208)722-5116
PARTS
Find and order Points, S-Tines, Bearings, and other common parts. We will ship it the same day of order if in stock. For other parts and more info please call.
OPERATORS MANUALS
View a list of all our manuals for every year model you might have.
Slide Show
PICTURES & VIDEOS
See pictures and video of the coil tine conversion in action.