12 Row

Sugarbeet Harvester
Features & Specs
Split Grabrolls with Full-Rock Protection
Each side driven independently
Simple, Reliable Design
Tractor Requirements:
320 horsepower minimum(as big as you can get)
60-85 GPM @ 3,000 PSI Hydraulics

Steerable Rear Flotation Tires
4-Ton Hopper with 48″ Discharge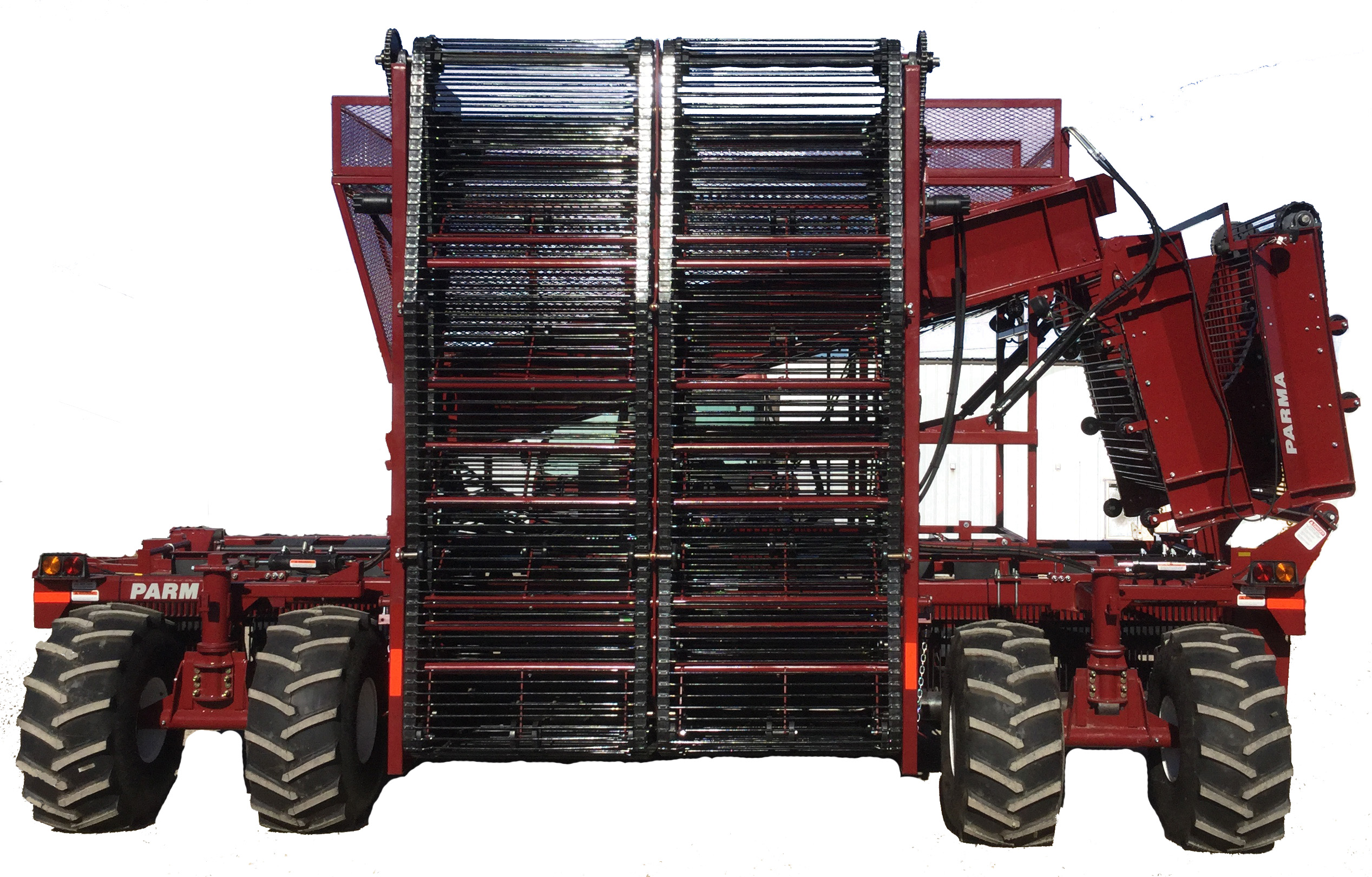 Overview
Parma 12 Row Sugarbeet Harvester
The simplicity of the Parma 12-row Sugarbeet Harvester sets it apart from the competition with its' unique design of the grabroll bed.  Each side of the machine is driven independently and feeds one of the two 48″ elevators.  An overall front to rear dimension of less than 20 ft long allows for quick turnaround times without the need for large headlands.
The Sugarbeets are lifted directly onto the cleaning rolls which then convey them across the grabroll bed into the large twin 48" rear squeeze chain elevators.  This proven design eliminates the need for extra chains, transfer rolls and the massive chipping while still maintaining the same great cleaning capacity.  The large 4-plus ton hopper provides just the right balance and the lighter weight allows for four evenly spaced rear flotation carrier wheels for stability and consistent row depth from side to side.
Features
12228 SERIES
29683 – 8 Row 30″ Row Spacing
12228D – 12 Row 22″ Row Spacing
19 ' 1″ Front to Back (Tongue Included)
8 Roll – Grabroll adjustable cleaning bed
Six Groove 5V Notched belt, dual side drive
Spring Loaded, Easy adjustable, drive Belt Idlers
PTO Driven Grabroll bed & Paddle shaft
Hydraulic driven Rear Elevator & Discharge Boom
Heave Duty Dual Rear Carrier Wheel Struts


4 ea. 21.5 x 16.1 Lug Flotation Tires
2 Way Steerable

Rock Protected Lifter Wheel Strut & Grabroll
98 " Elevator Throat
Dual 48″ High Capacity Rear Squeeze Elevator
STANDARD EQUIPMENT FOR ALL SERIES
Cast Alloy steel Lifter Wheels with Filler tabs and Driving lugs
Rubber Backing on paddles
1  ¾" Head shafts on Elevator drives
Holding Tank, approx. 4-Ton capacity 55″ wide with 48″ x 56 mm pitch belted chain
Fold down discharge elevator with dual cylinders
Dual 48″ Wide "High Capacity" rear Elevator with twin 48″ x 56 mm pitch Belted Chain
RC 80 Drives throughout
Wide open front end for great visibility into the Lifter Wheels
Two, 3,000 PSI Hydraulic Lift cylinders
Heavy Duty tongue swivel hitch (CAT 4)
LED Working & Caution lights
Hose Kit for Tractor hook-up
GRABROLLS
8 Roll Grabrolls with 4 Split, Directional spiraled, on 6″ Steel Pipe
Hard Surfaced on all Spiral wrap
3 Split smooth rolls with 5″ sch. 80 Steel Pipe
Two, half (split) rear smooth rolls with 6″ sch 40 Steel pipe
2-3/16″ Welded stub shafts
Triple Lipped Sealed 2 3/16″ Bearings outside 1 15/16″ inside
Adjustable, Spring cushioned hangers outside and center of machine
ADD ONS AND OPTIONS
Extra Spacing Kits for high tonnage beets in addtion to the Standard wide row configuration.
Powered by combination Mechanical/Tractor Hydraulics – or – Mechanical/Self-Contained system
Driven by CV PTO – or – Standard non-CV
In Cap electrical solenoid control valve (4-Bank Standard other options available)
Rear Elevator chain scrub-mode sprocket kit
Rear Elevator ladder & Platform
Grabroll Mud Flap Kit
Rowfinder or Tongue Cylinder Kit
Specifications
Specification – Model 12228D
Row Spacing: 12-Row 21" to 22"
Draw-bar HP Required: 320 hp min.
Grabrolls: 8 Roll split rolls and rear stubby smooth roll
Belt Drive – 5V Notched: 6 Groove Notched Powerband
Frame Width: 24' 11"
Towing Width: 26' 4″ (24' 11" boom folded up)
Shipping Width – Front to rear – Tongue Removed: 13' 11"
Shipping Width – Front to rear – Elevator and tongue removed: 11′ 7″(not really worth it)
Weight: 30,410 lbs (Tongue weight 10,580 lbs)
Overall Height:    13 feet & 6 inches
Shipping Height – Wheels & Top Sprocket removed:  12 Feet & 8 Inches
Rear Elevator Chain:  1/2 x 48″ x 56 mm Belt X 2, Belting is secured with 4 rod overlap Splicing
Center Boom Height:       10 Feet & 5 Inches
Hopper Chain:  1/2 x 48″ x 56 mm Belted with overlap Splicing
---
Lifter Wheels:  28″ Cast Alloy steel with Driving lugs & Filler Tabs
Tank Holding Capacity:  Approximately 4 Tons
Grabroll Bearings:  2 3/16″ Triple Lipped outside and 1 15/16″ inside center
Rear Carrier Tires:  4 each 21.5 x 16.1 Flotation
Support
CONTACT US FOR SUPPORT
Call, Email, or Leave a short message on our Contact us page and we will answer any questions you might have.
Call (208)722-5116
PARTS
Find and order Points, S-Tines, Bearings, and other common parts. We will ship it the same day of order if in stock. For other parts and more info please call.
OPERATORS MANUALS
View a list of all our manuals for every year model you might have.
Slide Show
PICTURES & VIDEOS
Look through pictures of the 12-Row, its features, & capabilities. Also watch videos of the Parma 12-Row Sugarbeet Harvester in action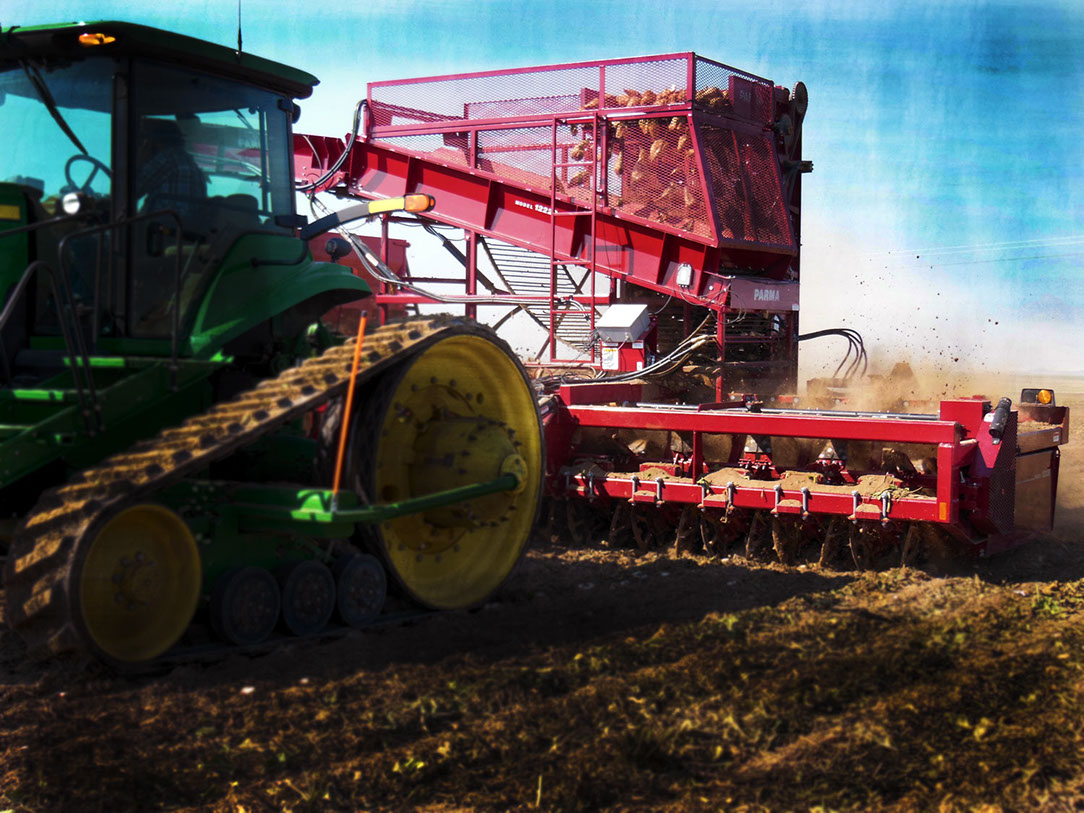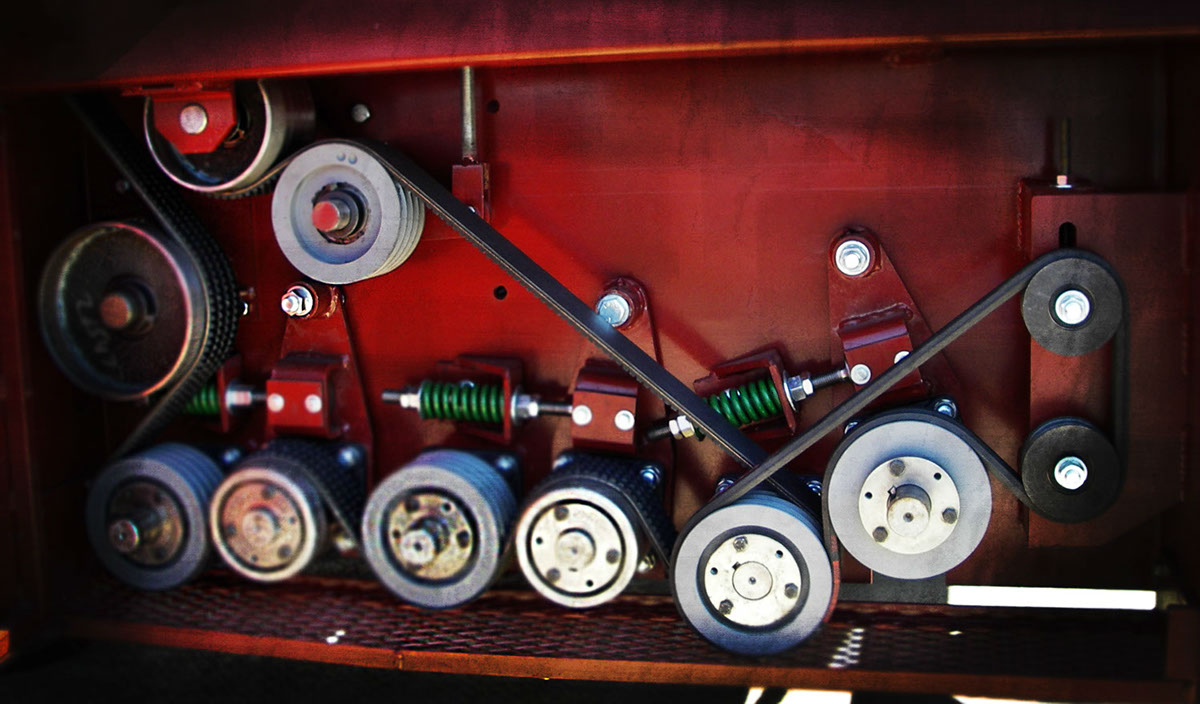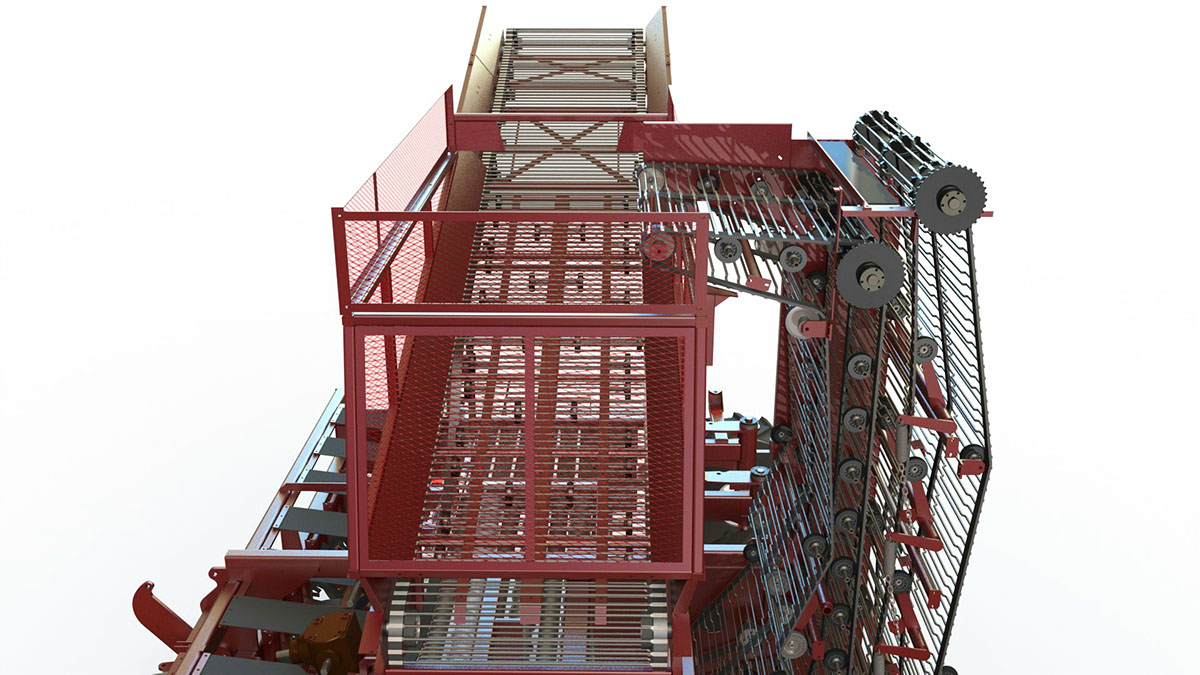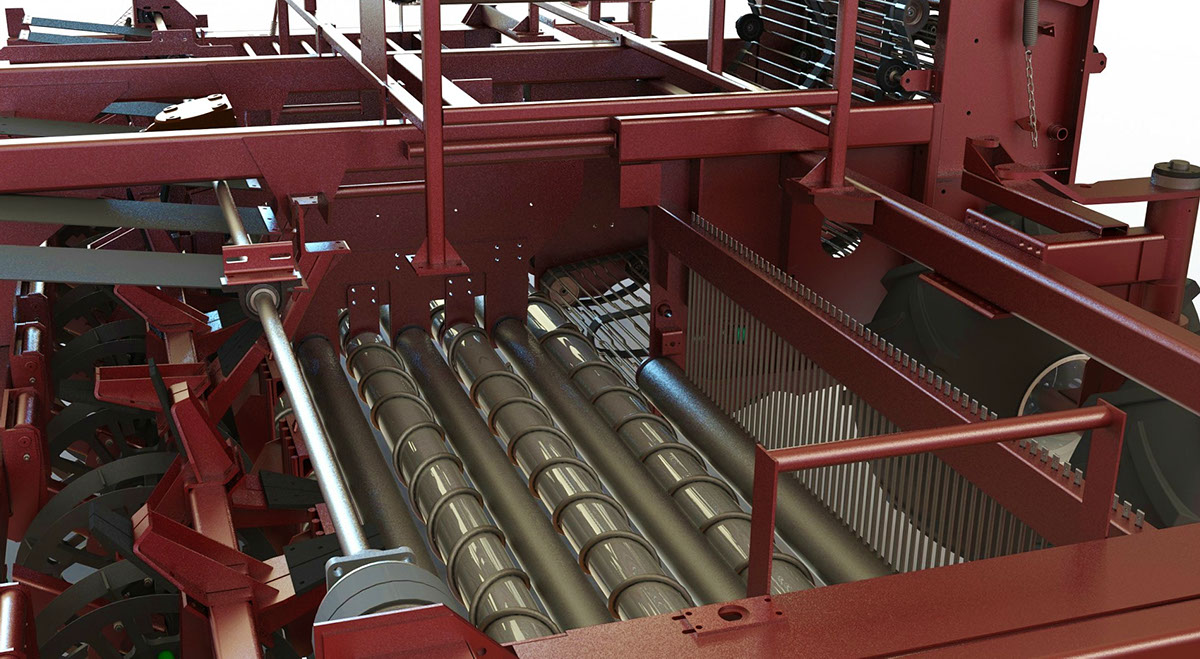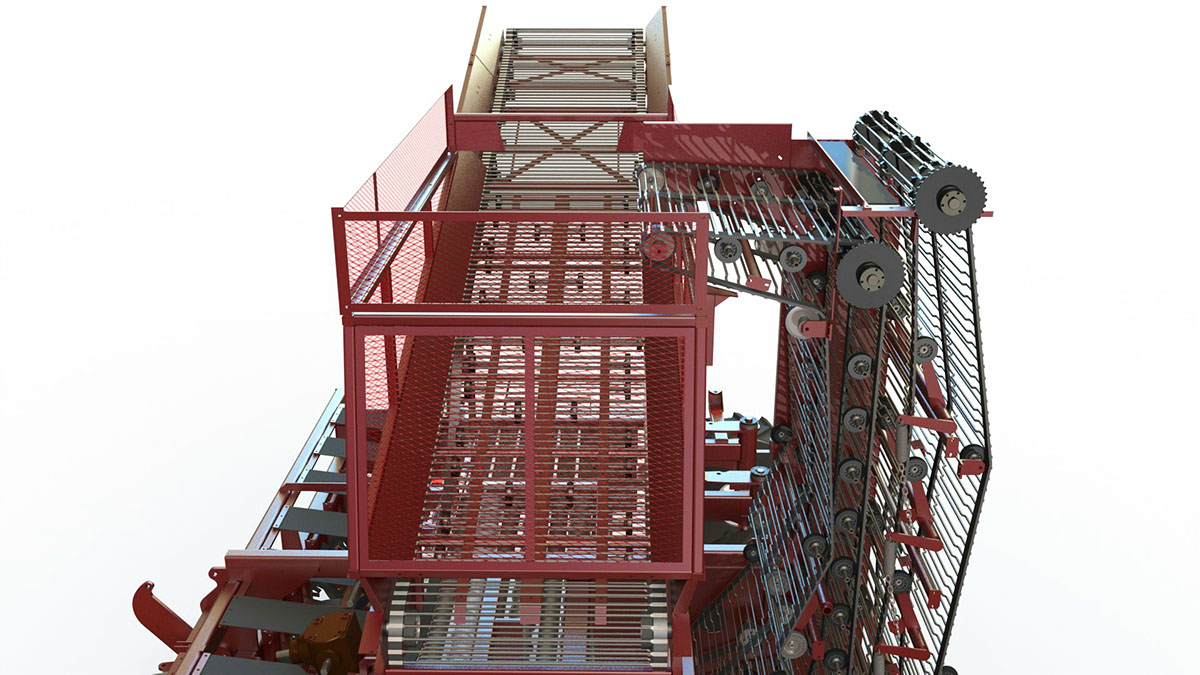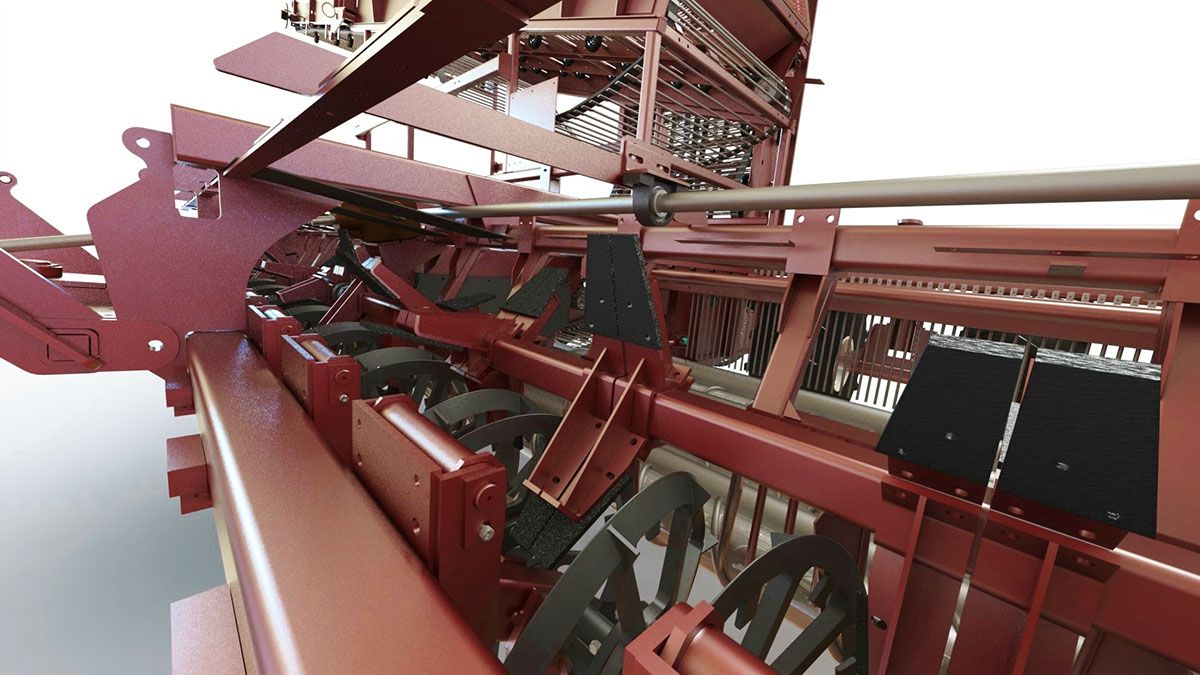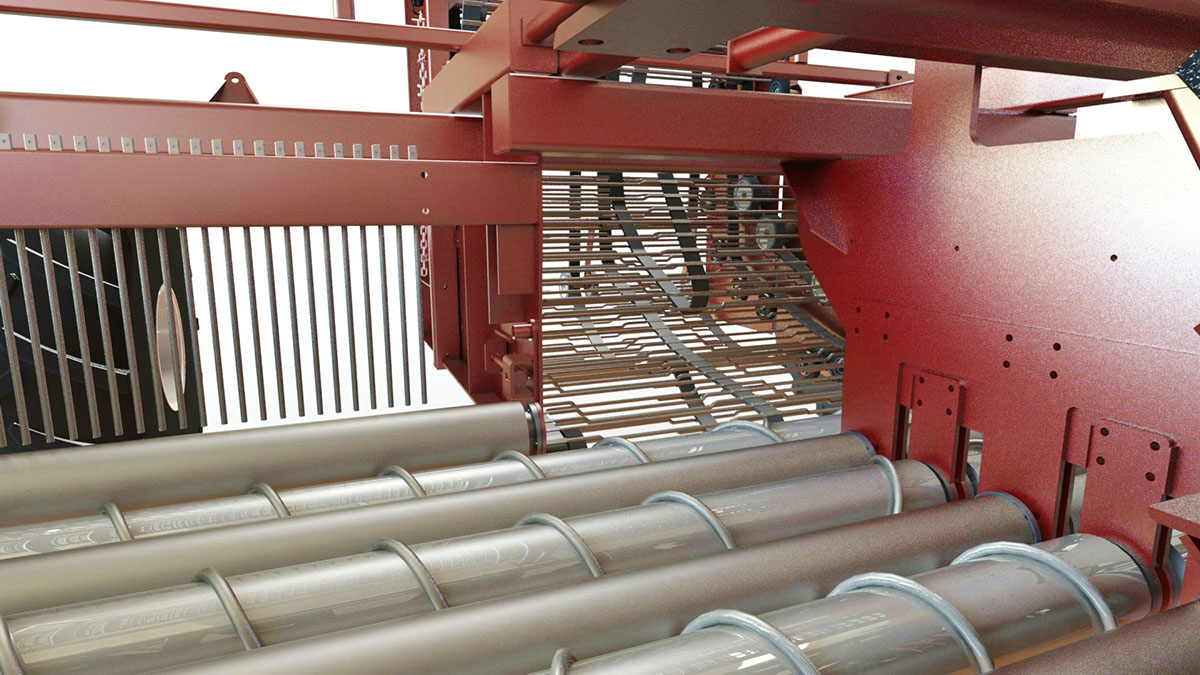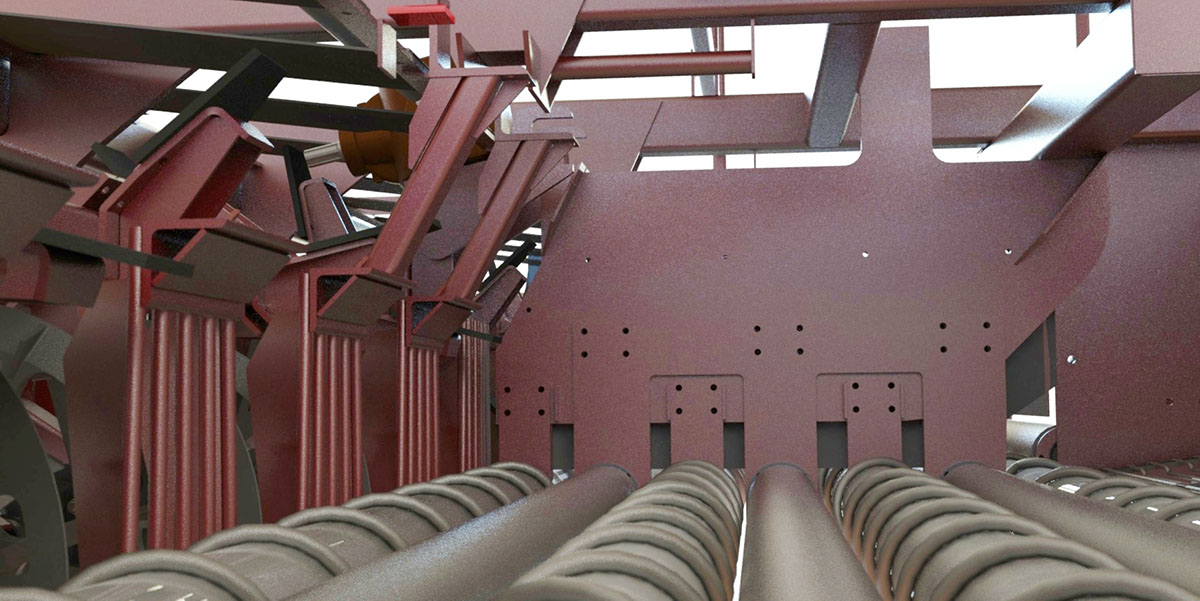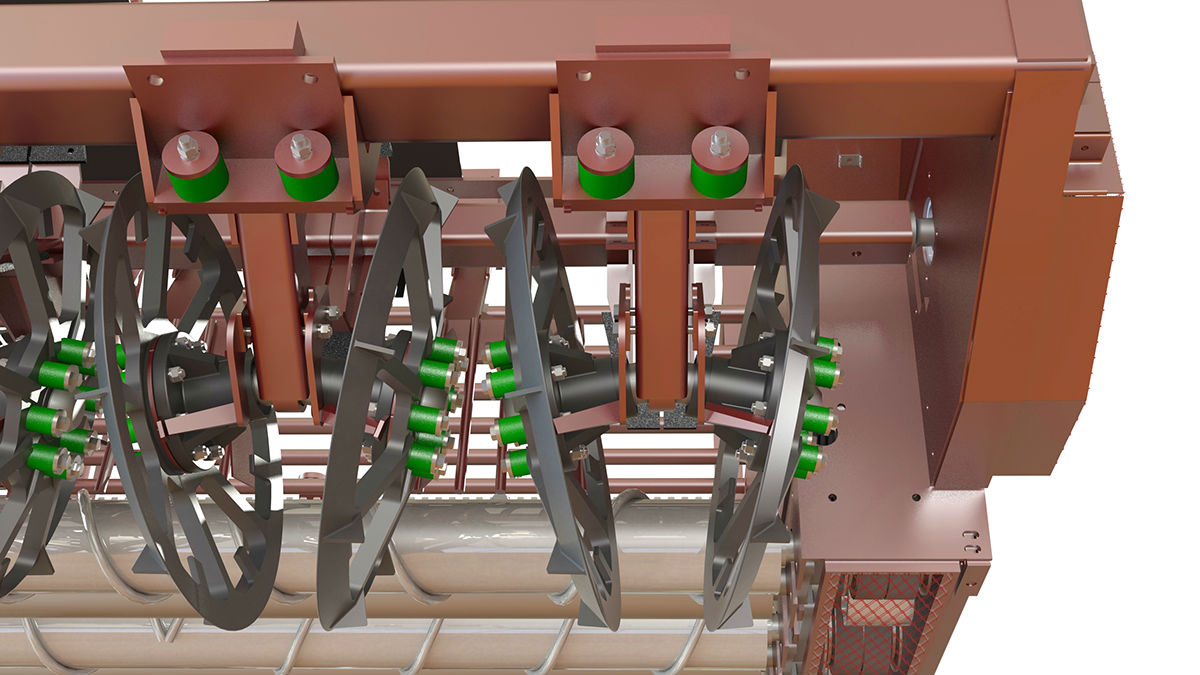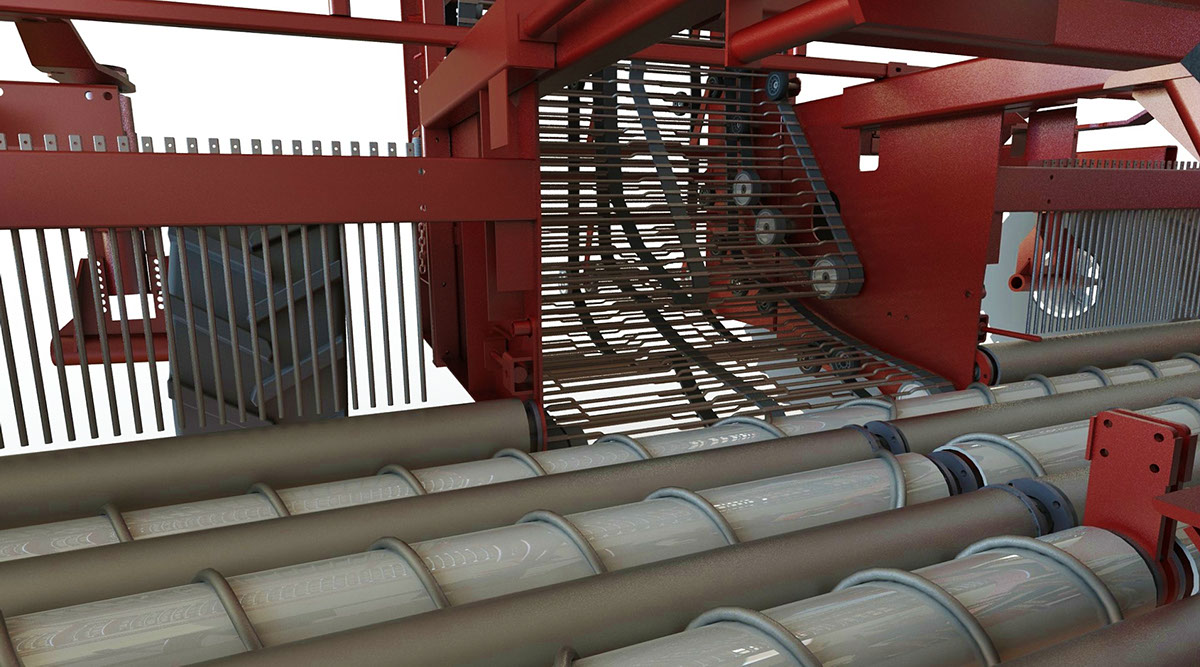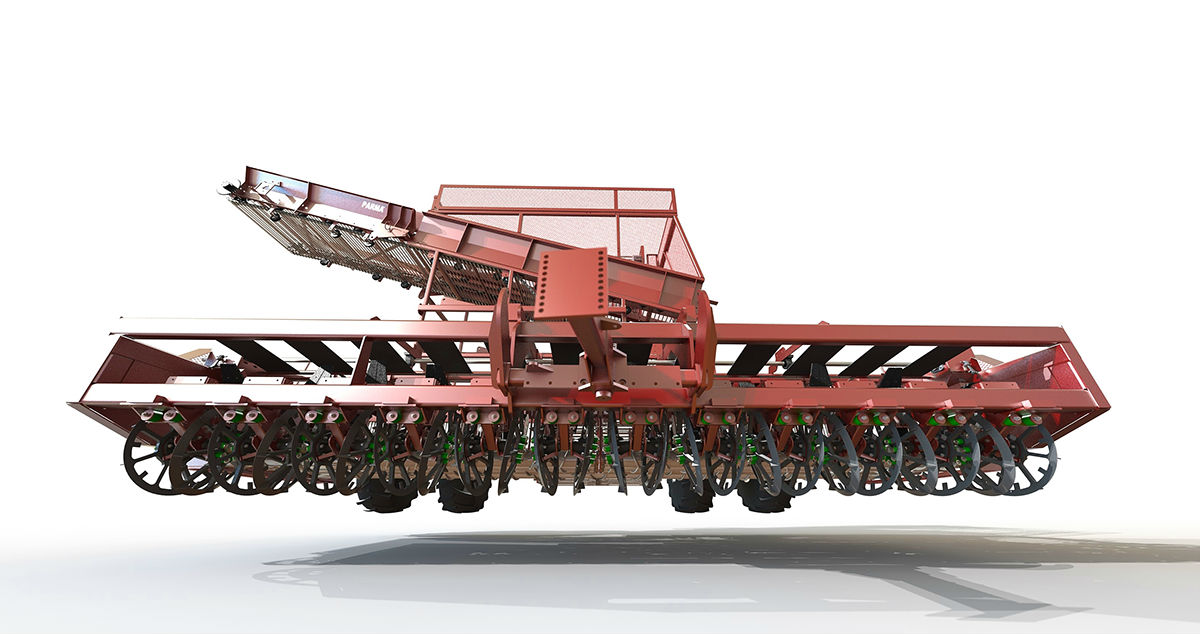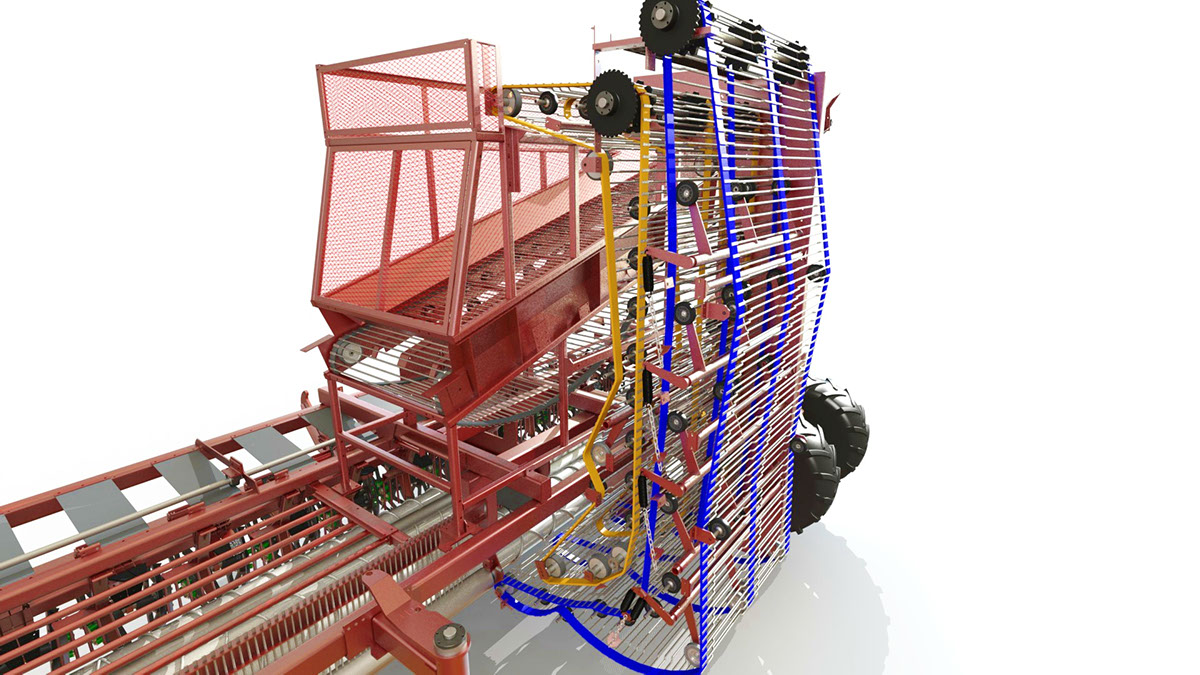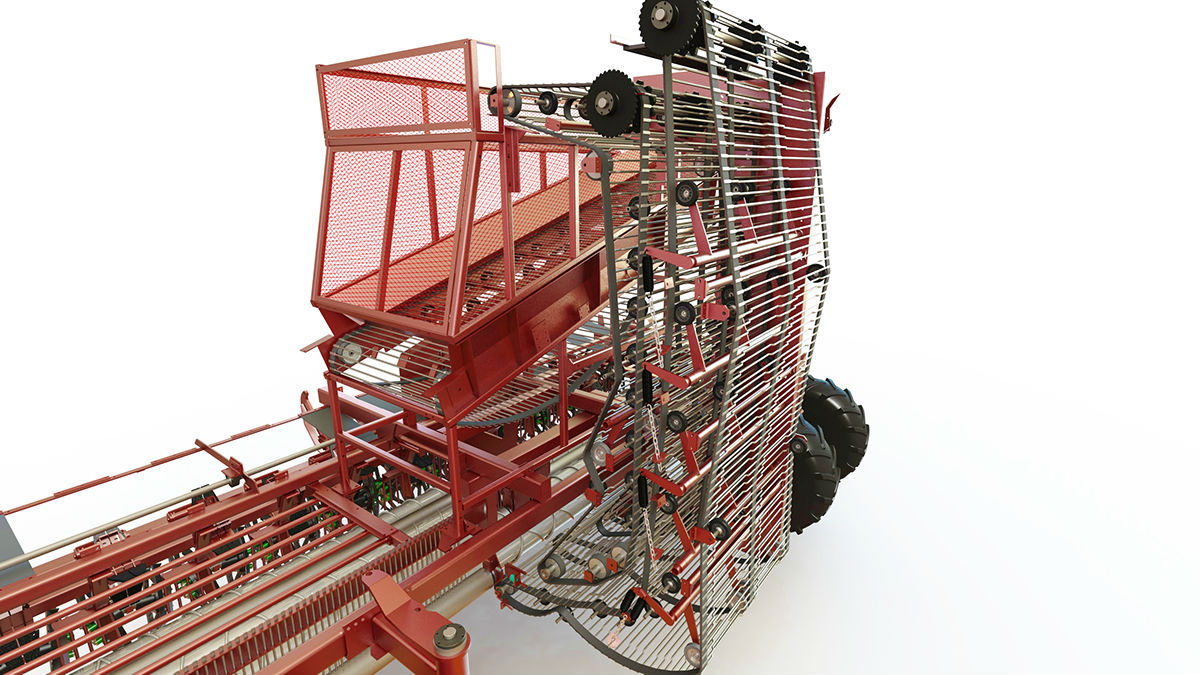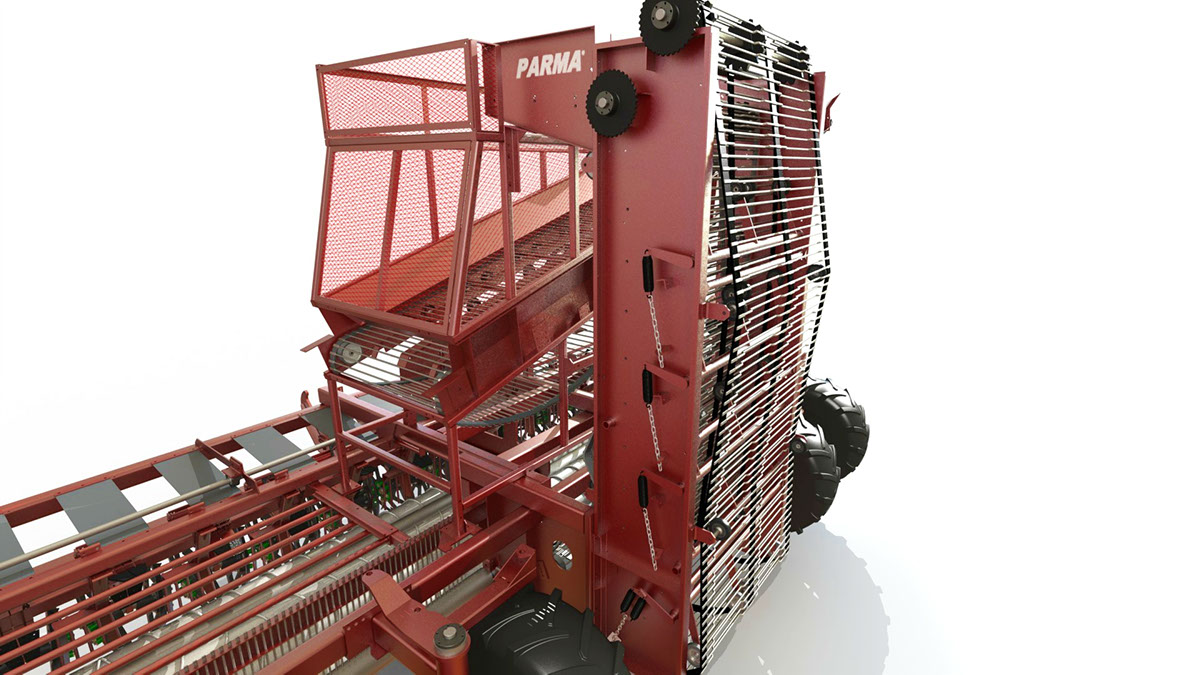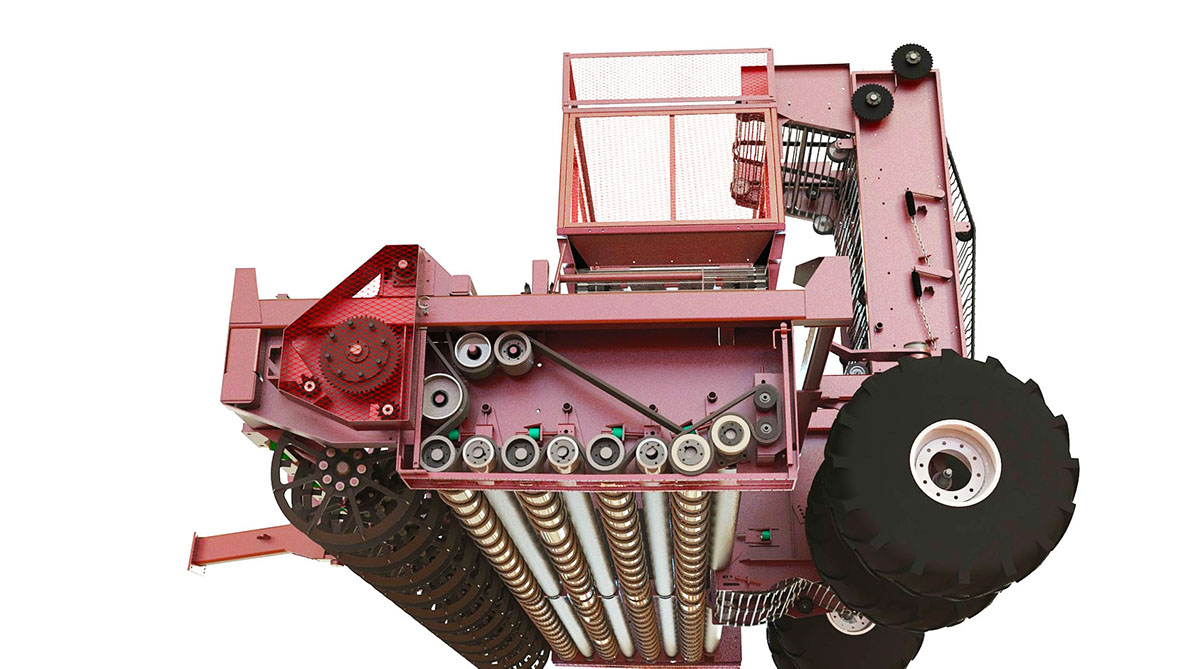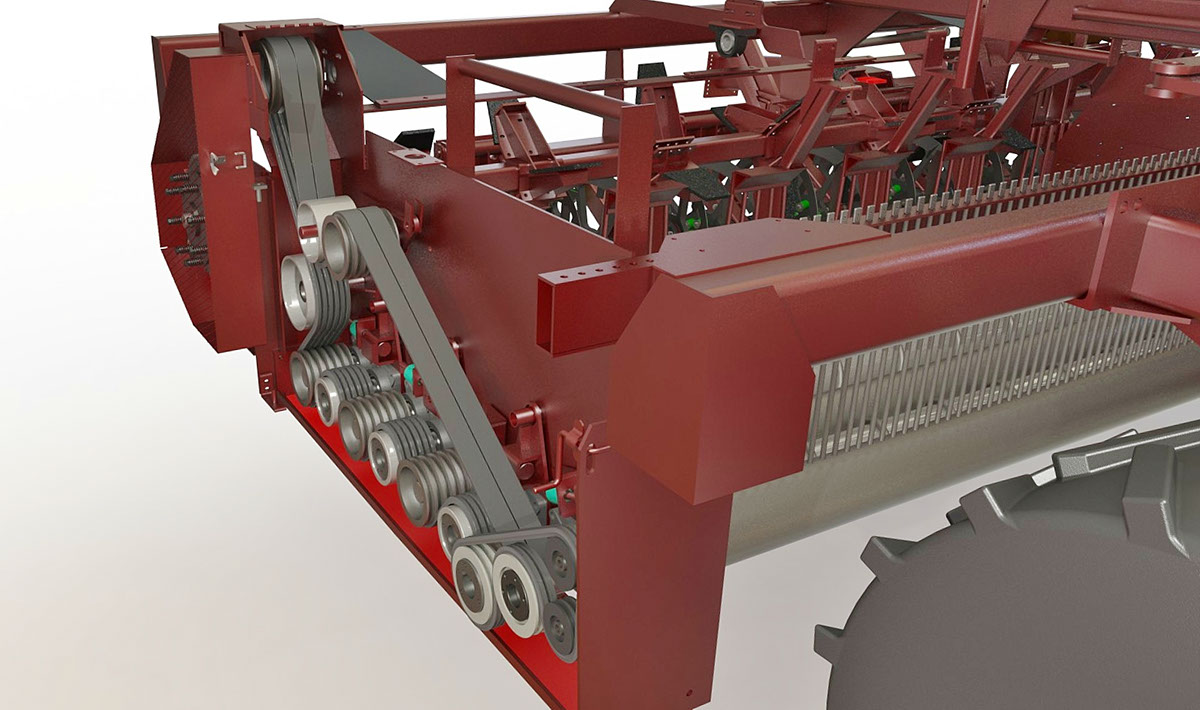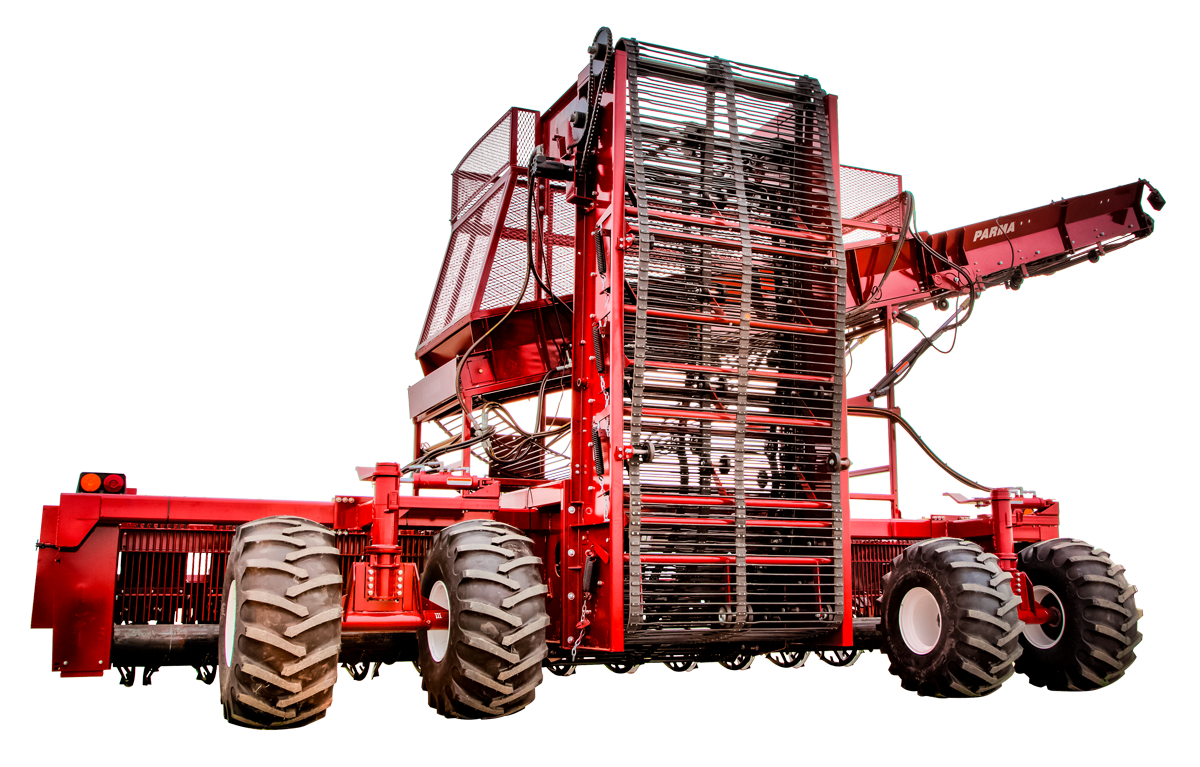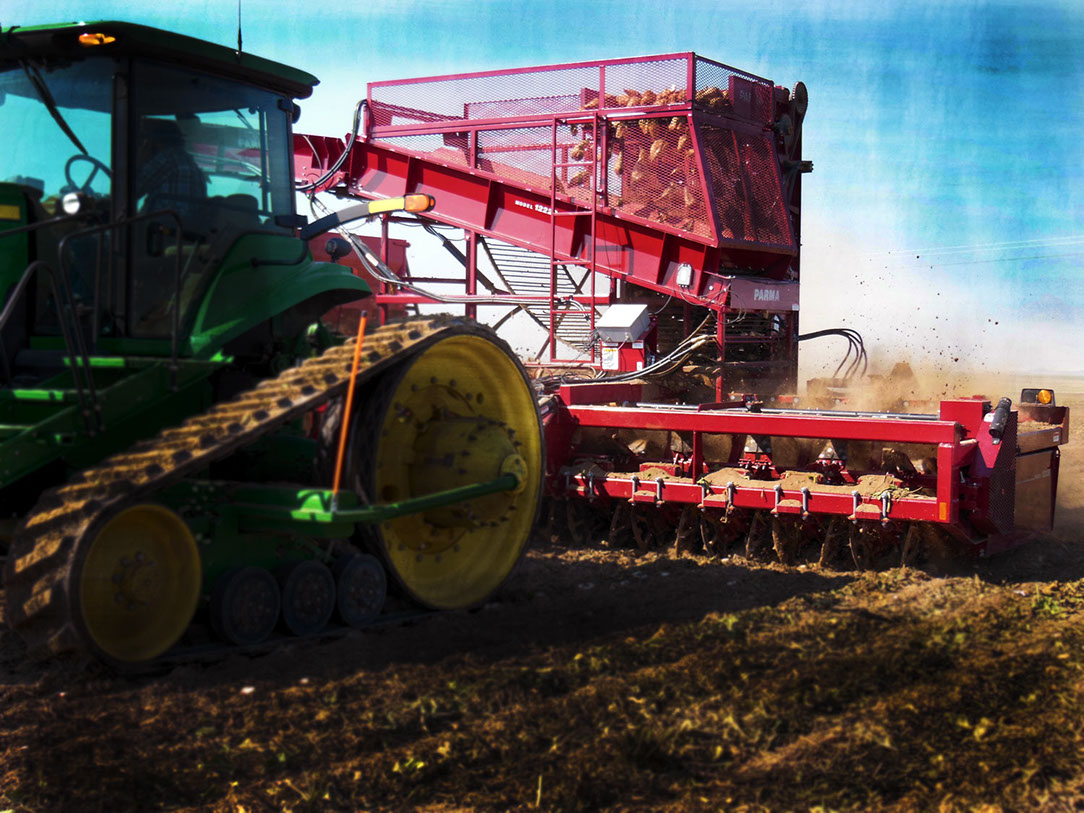 Grabrolls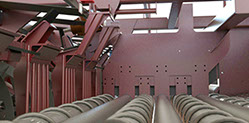 8 Total:
•  5V Belts for machine power transfer
•  PTO Driven
Rear Elevator
6 Rows feeding each side of the dual 48″ Belted Chains For High Capacity